Beer can be a wonderful beverage. It gets you through the good times and the bad. Lets you express yourself. And pairs well with a nice, juicy burger. We all have our preferences; Ale, Lager, Stout, IPAs, the list goes on and on. When you need to restock your home with a steady supply or if you go out for a night on the town, you feel compelled to reach for that familiarity. And chances are, you won't stray too far from the path. But once in a while, you feel the need to switch things up. So you're wondering what to get? Well, if you're anything like me, you'll pull out your phone right in front of the refrigerated merchandiser, Google "Best new beers to try", and most likely choose the first option or two. But if you're not in modern times, or if you simply refuse to be a follower, then the label on a beer bottle may be enough to entice you.
We take for granted how much time and dedication goes into branding. Of course, your first thought when you head to the liquor store isn't usually "Wow! Can't wait to peruse the stock of pretty and colorful beers!" You simply want beer. But there's a great appeal to a visually captivating label. It makes you want to try new things. Take risks. Live dangerously.
Now that's not to say just because you're an avid Ale appreciator who happens to see a cool design on an IPA when you hate IPAs should sway your decision making. But it certainly makes you wonder what the backstory is on the design process. No? Just me?
That brings us to our top picks for best beer label designs we've seen!
Fort Point Beer Company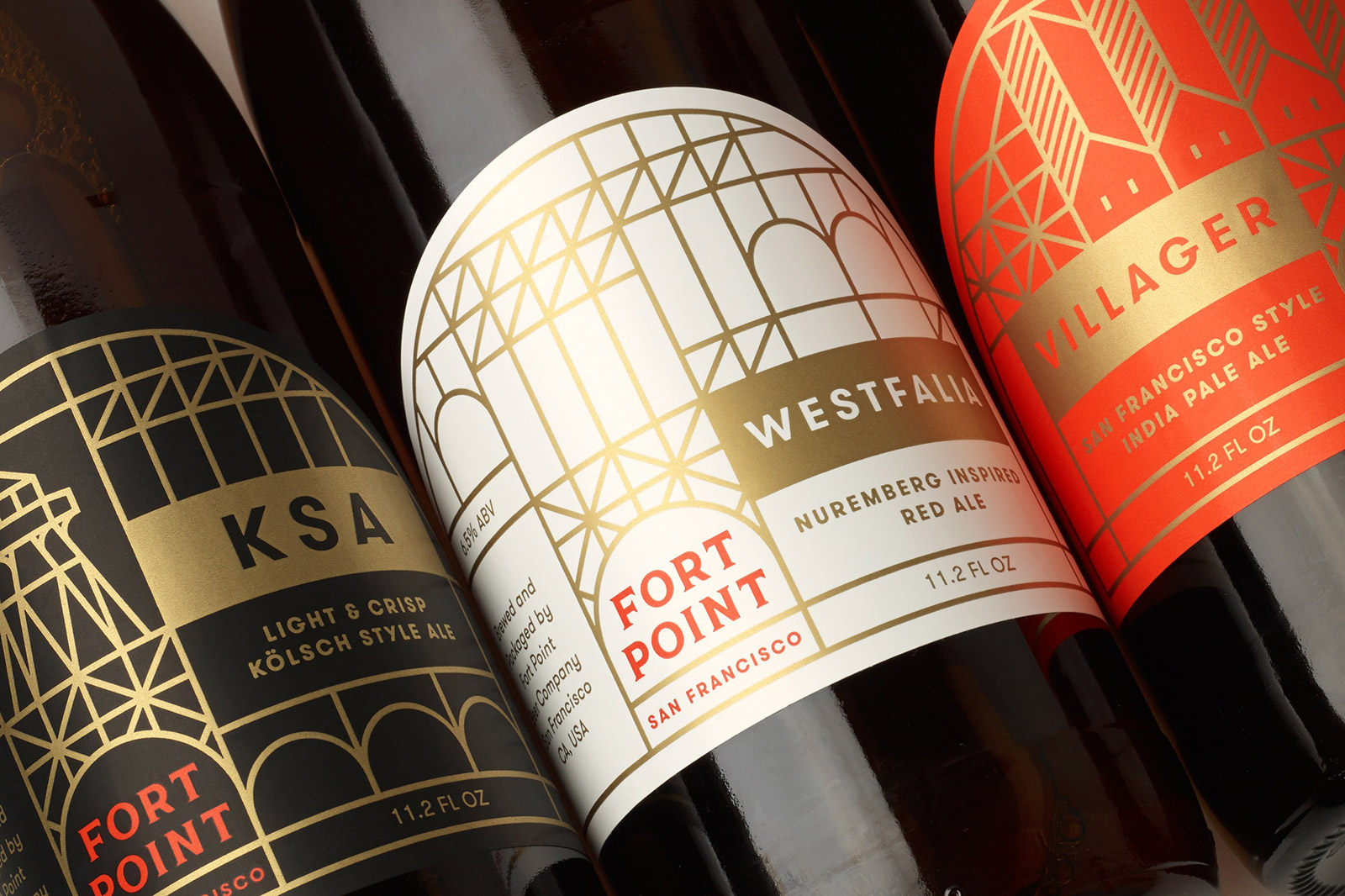 Fort Point Beer Company was founded in 2014 by Justin and Tyler Catalana in San Francisco. Their pride in San Francisco is quite apparent, as their brewery sits in a historic Presidio building, which had been previously used as an Army motor pool. Not only that, but their beer labels reflect the architectural layouts you would commonly see in San Francisco. A minimalistic design with linework pleasing to the eye, Fort Point Beer Company stands out in a simple yet satisfying manner.
KAIJU! Beer
KAIJU! Beer is a three-person Australian operation that got its start in 2013 when they released a Double IPA that was successful among craft beer drinkers. For those of you who don't know, the term 'Kaiju' means "strange creature" in Japanese, which reflects their stylized monster labels. Each batch of beer is handcrafted, which is impressive in a world where commercial methods and industrial machinery are commonplace. Vibrant vector designs and well-executed references to pop culture make KAIJU! a top pick for us.
They also make a delicious apple cider known as Golden Axe.
Rogue Ales & Spirits
In 1988, Rogue Ales started out at a brewpub in Ashland, Oregon. After their success, they proceeded to open up a second brewpub in Newport, Oregon where their headquarters now sits. Rogue exports within the US and nationally, and is considered one of the more fun, fully flavored beers out there. They even have micro distilleries dedicated to spirits and liquors.
What makes Rogue truly stand out is not only their American pride but their steady rotation of craft beers. They specially brew beers that are only available for a limited run. Whether it's a collaboration between the brewery and a well-known brand or a unique flavor impression only crafted for a small window, Rogue knows what the people want. One of my personal favorites is their Voodoo Doughnut Bacon Maple Ale.
21st Amendment Brewery
Last but not least we have 21st Amendment Brewery. Nico Freccia and Shaun O'Sullivan founded the 21st Amendment Brewery in 2000, located in San Francisco's South Park neighborhood. The brewpub is regarded as one of the best in the San Francisco area.
Upon research, Freccia and Sullivan found that breweries were more than just the beer; It was a place to talk shop, exchange ideas, and come together as a family. A taste of the neighborhood, if you will. Speakeasies were common once Prohibition wiped out this culture in 1920. For about 13 years, this form of social interaction was kept underground in secrecy. Once the 21st Amendment passed, the culture surrounding old breweries became celebrated, and a new era of brewing and human interaction was established.
Playing on American history with witty illustrations that convey political statements, These beer products are hard to miss. Their line of beers truly reflects life, liberty, and the pursuit of happiness.
Have an awesome beer design you've seen? Let us know in the comments!